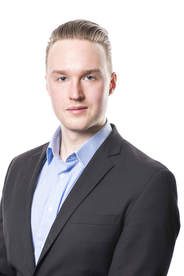 Hello!
One of the most important things needed nowadays in the business world is to show yourself in a professional manner.
Here are some tips on how to achieve that.
Clothing!
It is very important to wear something that doesn't distract attention from you but also flatters you. Bright colors, busy patterns in your clothes will be seen sometimes as to shiny and bright, therefore, people won't pay attention to the image, but, to what you are wearing.
I usually recommend my clients to wear bold colors, such as black, grey, blue, or white with no bright patterns or color mix. The reason for this is because, this colors normally fit well with anything else in the background, it could be a cityscape or a plane black or white backgrounds, plane colors won't compete with you and the background, therefore, there will be a much cleaner image of you, and not to mention, you will be the star!
Although, it totally depends on what you do! If you are a lawyer, business or corporate person, this will be the best choice for you, so clients will see that you take your job seriously.
Make-up!
For make-up applies the same as in clothing. You want a blending-natural not too flashy make up, some mascara, some lipstick (not the bright red one, I would say!) that blends with your natural colors is my recommendation. Same story as clothing, bright, flashy make up, will distract your potential customers, and might sometimes give the wrong impression.
Hair!
Hair is always a tricky one, depending where you are having your photo session, it might get difficult. If it's indoors, your hair is most likely to stay still, but if it's outdoors, depending on the wind, it can get messy. For both situations, the best thing to use is hairspray, that will keep your hair where it should be, and will be easier to take care of strain hairs.
A hair brush is always important to have handy, in case you move or wind blows, you can fix your hair again and get back to where you want it to be for the photoshoot.
To smile or not to smile!
This is normally up to your personality, although there are some standards to say it in a way about it. Since this will be your business image, you want to look friendly but not over do it. What you want is more like a hint of a smile, not too much, but not too little or none. A small smile will send the message you are happy to have them as your client, but still showing you will take it seriously, although, if you don't smile at all, you might look too serious, and might send the message as you are angry, or not interested. So,
keep a nice smile that is inviting!
With the Photographer!
Many people don't feel comfortable with getting pictures taken, I know, I'm like that! Very important is to remember that you should feel confident, I'm sure you can do that. So just relax, a good photographer is not just hiding behind the camera, should be able to talk to you, direct you in order to get the best image for both of you, and feel free to say if there's anything making you uncomfortable.
Communication is key!
Make sure for that day you rested well, you are relaxed and looking your best, because at the end that's the most important part and have fun during your photoshoot!
If you have any more questions or interested in a professional photo session, please contact us and let us show your best!